Motorcycle Tours in Pattaya Thailand 
So you have flown into Thailand and you're on a short stay or limited budget but would like to get a feel for Thailand's country side and culture and indulge you passion for Motorcycle and Adventure .
Well fear not good traveller for there is an answer that will not break the bank and will provide you with a full days fun and site seeing.
Have you ever considered a Motorcycle Tours in Pattaya Thailand
Just 2 hrs from the center of Bangkok or 1hr 40 mins drive from the International airport lies the city of Pattaya and to the east of this is Pattaya Motorcycle Tours.
Pattaya was once a sleepy fishing village, that was until just before the Vietnam War soldiers stationed at Utaphao ventured into the then small town and began using it regularly as a place for rest and relaxation.
Since those early days Pattaya has grown out of all recognition, and is now a large city, with bars, nightclubs, shopping malls and hundreds of restaurants.
Accommodation
Good accommodation in Pattaya or Jomtien can be had from as little as 1,200thb and goes all the way up to the high end places priced at around 15.000thb
We find the website BOOKING.COM a great way to book ahead as it often has some good deals on there.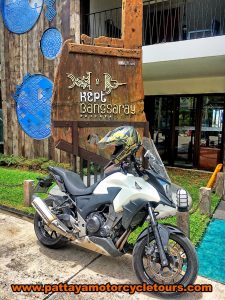 Climate
The climate is for the most part hot and humid and even in the rainy season it's still possible to ride motorcycles as the rain storms are mostly in the evening or during the day, very short. There are days that can be exceptions but on the most part we ride everyday.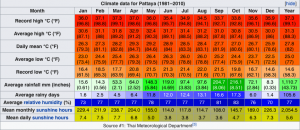 Motorcycle Tours in Pattaya Thailand.
The riding around Pattaya is one of those hidden gems.
If the weather has been kind then we can offer some off road fun in the morning which takes us down some of the dirt trails and climbs through the jungles and forests that surround the area. This riding is tough as the bikes we use are not light weight enduro bikes but larger adventure bikes.
A modicum of fitness and experience is needed, as the weather can soon zap your strength and experience in these environments with larger bikes is always a big plus.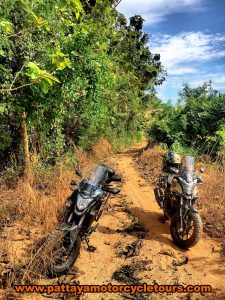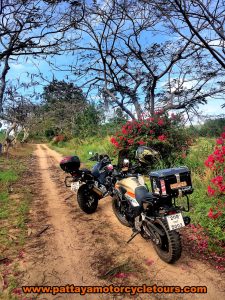 If you prefer to stick to the roads and ride then we have a number of shorter rides broken up by seeing a few of the sites around Pattaya. The roads are for the most part in great condition, and there are some great twists to keep you smiling.
Peoples perception of Pattaya is of a seedy city full of bars and nightlife, there is that, but scratch below the surface and put your adventure head on and you will see a wholly different place. Pattaya has a whole host of sites along with great scenery which is on our tour route.
Silver Lake Vineyard and Little Como is a small taste of Italy.
A 420 acre site in the hills has been remodeled and comes complete with a colosseum, little Venice, vineyards and a lot of Italian architecture. It was the dream of a Thai movie star to build and some parts are still under construction.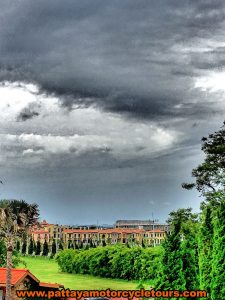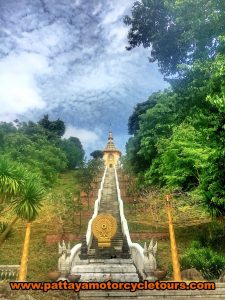 Another noticeable landmark is Buddha Mountain which is a huge 130 meter high golden buddha carved into the rock. Also known as Khao Cheejan it can be seen from miles away.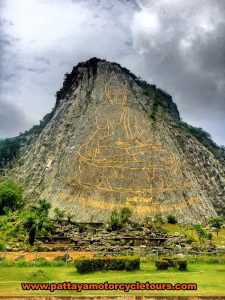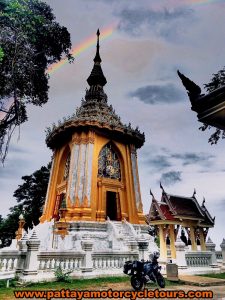 The white temple is also worth a visit and is in Hauy Yai area on our route. This is a relatively new temple but a striking landmark none the less.
Our tours start when we pick you up at your hotel or guest house at around 8.30am .
After some paper work and discussion on what routes you prefer either off road or road based, we then set off on our tour.
We ask that you bring a full license and International drivers permit be over 25 years of age and have a minimum of 2 years riding experience.
Helmets, gloves and body armor can be provided upon request. We just ask that you bring strong shoes or boots to ride in.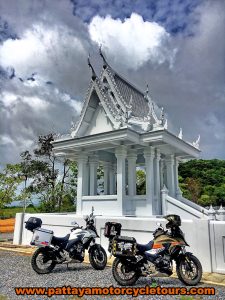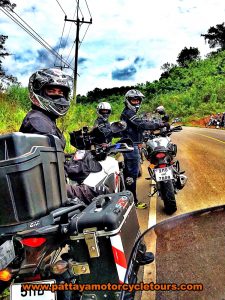 So if your stuck for something to do, fed up with the fumes of the city then do give us a call or drop us an email and we will be more than happy to guide you safely through Pattaya's hidden sites.
If you have time and would like a longer tour then we have 1 week, 9 days and 2 week tours available traveling all the way to Mae Hong Son and beyond.
BOOK NOW and come and join us and see for yourself what Pattaya has to offer!!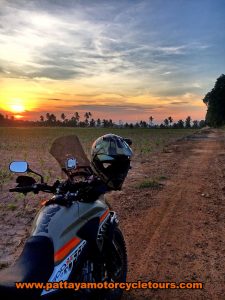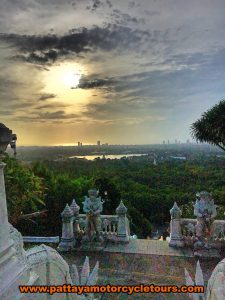 Motorcycle Tours In Pattaya Thailand