Kanchanaburi Jungle Run
Touring By Motorcycle Thailand - This is the newest tour on offer through Pattaya Motorcycle Tours and has taken some time to develop to get the mix of riding and sites at an even balance. There are so many great roads here that it even took us by surprise, and the sites and views are stunning. This is certainly not for a novice rider as it does have a few busier roads to navigate on the first day, but once through them, we have some of the best routes and tracks possible in Thailand.
Day 1 - Collection (Touring By Motorcycle Thailand)
As you land in Thailand we will be there to greet you and check you in to your hotel for the evening in Pattaya. All the paperwork for the trip should be handed to our representative if booked online.
This allows you to rest and fully prepare for your adventure.
DAY 2 - (Jungle Time)
The tour finds us leaving Pattaya early in the morning after our safety briefing and heading out towards Kanchanburi (approx 320kms) where on the first day when we arrive we will check in to our floating hotel on the river and take a short but relaxing cruise (Those of you that want to jump off the bamboo raft and drift down the river can) before dinner and an early night - tomorrow is a busy day!!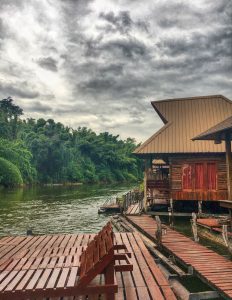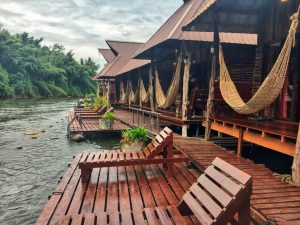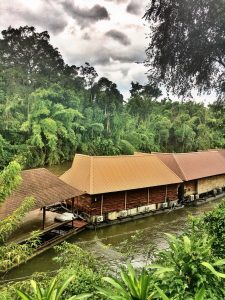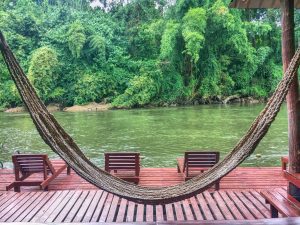 DAY 3 - (The Death Railway)
Our day begins with breakfast and a trip just down the road to the war museum which documents the history of the "Bridge over The River Kwai" and shows first-hand the harsh conditions the POWs had to endure during their time captured. We then take a short ride to visit the famous "Bridge Over The River Kwai" where we can park the bikes up and get some pictures and walk partway along this iconic steel bridge made all the more poignant after visiting the museum.
We then take you on to the war memorial site to pay respect to the POWs that lost their lives under the harsh conditions building the Death Railway.
Lunch is at our local Thai restaurant near the river, with delicious local Thai food.
After lunch we will ride a little further and actually visit 2 sites, the first being the death railway site where you can actually see how the POW's carved by hand through the rock. This site has a real sad atmosphere as everyone that has ever been there having said.
The last ride of the day takes us up to the Death Railway site that shows how the railway line was actually fixed to the sheer cliff, amazing views and again tinged with sadness.
We will be staying in Kanchanaburi town centre, so relax soak up the atmosphere, enjoy the quiet little bars and restaurants. We have another busy day tomorrow!!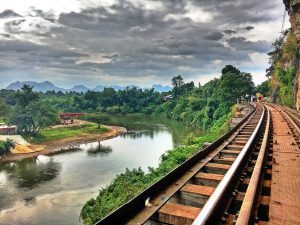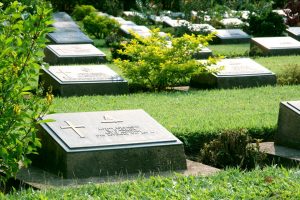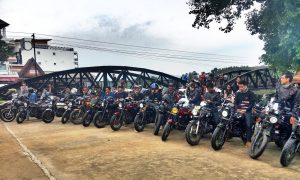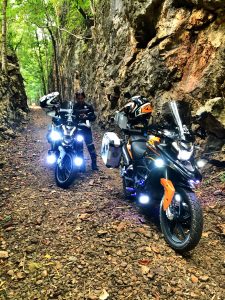 DAY 4 - (Ride To The Falls)
Today is a ride of just over 50kms to Erawan waterfalls in the Erawan national park.
This is now just giving you a taster of what lies ahead as the roads become more twisty and the scenery starts to change into the lush rainforests you see in the movies. The waterfall is seven tiers so bring a bathing suit, you will not want to miss jumping into these turquoise/emerald green waterfall pools. This is a photo opportunity that will have all your friends back home green with envy. This is a tropical paradise !!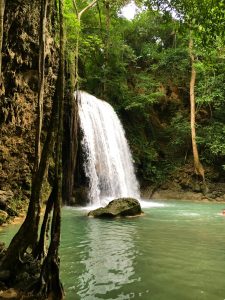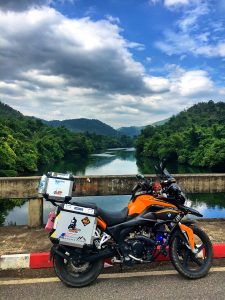 Day 5 - The Twisty Ride to Pilok  
So today we begin the climb proper up to a small village, in the mountains through thicker jungle passes. We have over 400 twists and turns to negotiate and in places, the road has given way to a dirt track.
There used to be tin and wolfram mines on the Tanao Si Range which forms a natural boundary between Thailand and Myanmar and can be visited by those interested to take a look.
The village is located around a lake and offers a number of quaint homestays overlooking the mountains and lake. We will spend one peaceful night here and hang out with the locals and on a clear night, stargazing is amazing because of the lack of light pollution in the mountains.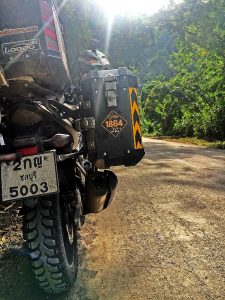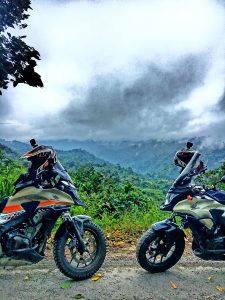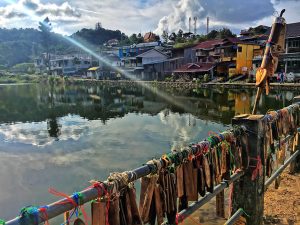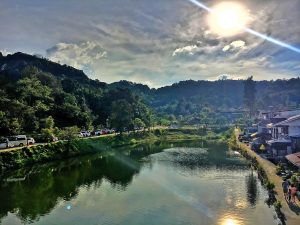 Day 6 - Sangkhlaburi Mon Bridge and Temples
The sunrises are epic in Pilok so those of you that are budding photographers will need to be up early, although we won't be leaving till 10 am and those that want a more leisurely morning can take breakfast around the lake. The ride down the mountain is taken a little slower as the dew from the morning normally leaves the roads a little wet and as we ride we will get the full benefit of this cooling mountain air. Our ride today takes us to Sanghlaburi, which is right next to the Burmese border. The village is another sleepy haven mostly missed by westerners, which is a shame as it really warrants further investigation. The village boast the largest wooden bridge in Thailand and its chaotic construction will have you wondering how it's still standing!
It's a particularly awesome site at sunrise and sunset and will leave you with some truly staggering pictures.
We will also be hiring a boat in the afternoon as we want to take you to an amazing site, "The Sunken Temple". This temple especially just after the wet season is eerily beautiful and the surrounding views can only be appreciated from the boat, again have your cameras ready !!
The last temple of the day is particularly unusual construction for Thailand and looks like a Babel of geometric shapes and is guarded by two lion sculptures.
We will spend a night here on the riverside and in the morning visit the Mon market for breakfast, before our long ride to Suphanburi.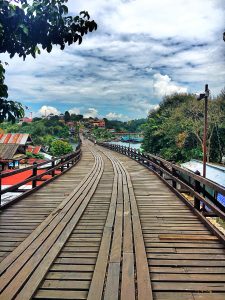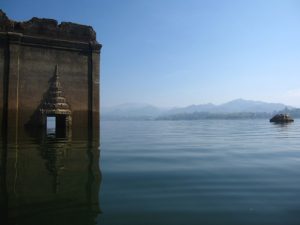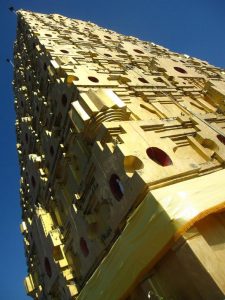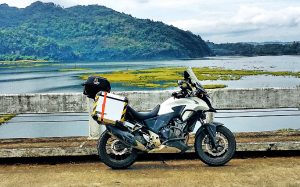 Day 7 -Ride to Suphanburi
We have a long ride ahead of us of about 300kms to arrive in Suphanburi.
Suphanburi is a province near the Tha Chin River and has a very old Chinese community that settled in the province 100's of years ago. We will spend a day relaxing in this quaint town and be visiting and eating at the Sam Chuk market.
Sam Chuk Market is a 100-year-old traditional market that has remained an antique community while all around it has moved on. Here you will find a mix of traditional products, great foods to try out and some more of the usual tourist souvenirs. We will advise you on the different foods, and encourage you to try some of the traditional snacks found along with the market, such as Hor Mok a kind of fish meatloaf and the delicious coconut ice creams.  After a late lunch here we will be going on to see how traditional farmers in Thailand used to live at Baan Kwai or Buffalo Village. The Buffalo village sits on a 27-acre site and you will get up close and personal with the water Buffalo and be able to watch the daily activities of farmers such as rice-threshing and explore traditional Thai homes on stilts. Various areas feature different types of folk knowledge such as traditional Thai medicine, traditional Thai massage, indigenous herbs, and Thai astrology. Visitors can also enjoy half-hour buffalo shows throughout the day. We will stay in Suphanburi for a night before the ride to our final destination, Ayutthaya !!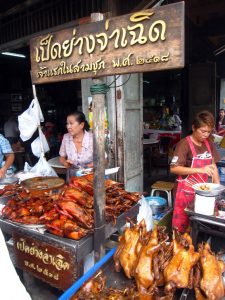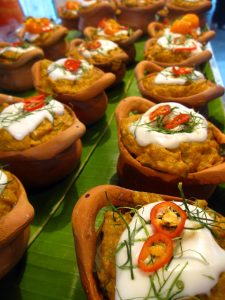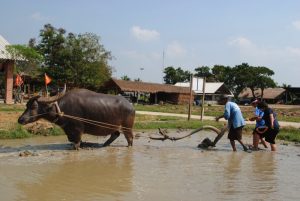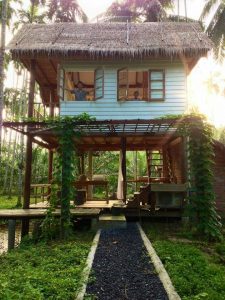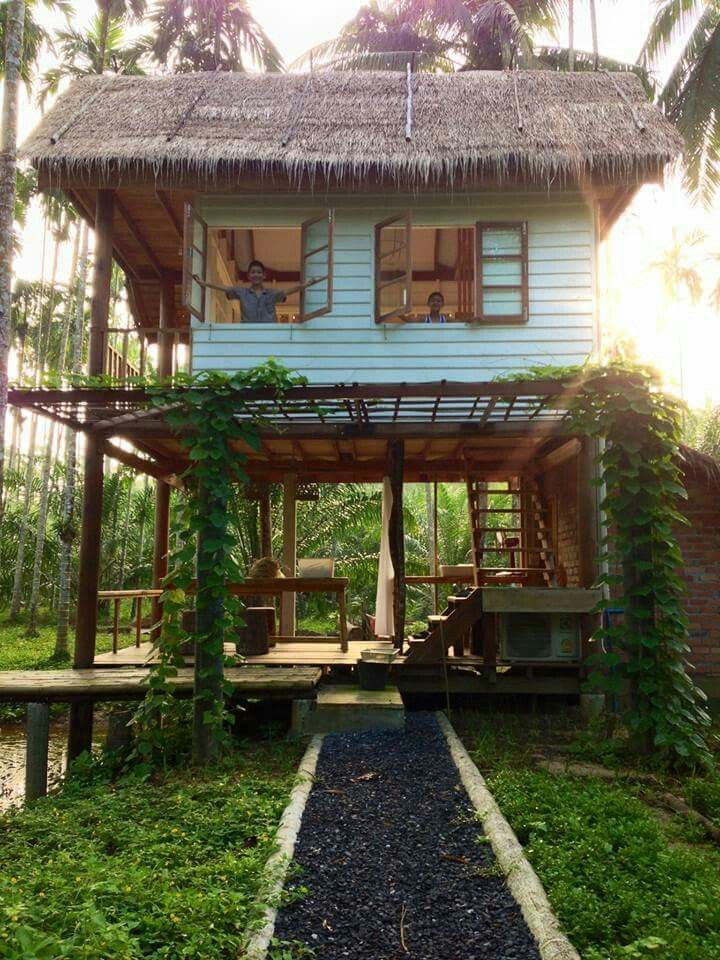 Day 8 - Ancient City Of Ayutthaya
Today riding is a little more relaxed and we have approx 75kms to arrive at the ancient city of Ayutthaya.
Ayutthaya was the ancient capital of Thailand founded around 1350 and by the 1700s was the largest city in the world with a total of 1,000,000 inhabitants.
In 1767 the Burmese invaded Ayutthaya and all but burnt it to the ground. Today what's left standing gives a glimpse back in history with most of the remains being monasteries and palaces as those were built mostly in stone. We will be visiting 2 sites of this ancient city and have lunch at the second site.
You can take as long as you require to look around and photograph the amazing temples and ruins.
You are free in the evenings to take time to relax in a  bar or restaurant but we would suggest a walk around the sites again which are spot-lit from the ground and contrasting with the pitch-black sky, the historical sites appear rather otherworldly – both beautiful and surreal.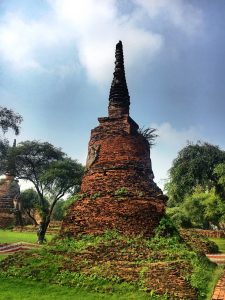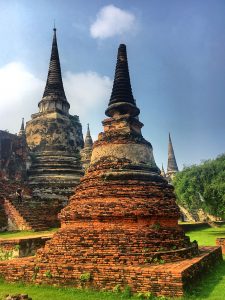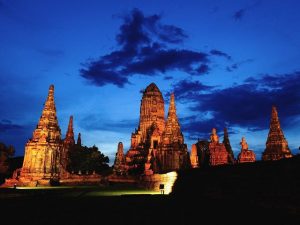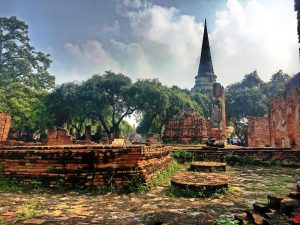 Day 9 -Pattaya here we come!
Our last day riding will be back to Pattaya where on the way through we will take you to a couple of lesser-known sites in and around the Pattaya area, this will include Silverlake Vineyard, the buddha hill and the white temple.
All of these sites are well worth a visit and bring us to a great ending to what we hope was a fantastic tour of old Thailand. We will drop you back at your accommodation in Pattaya for the evening and then when you're ready to depart we will organise your rides back to the airport and we hope to leave you with some great lasting memories and friendships in Thailand.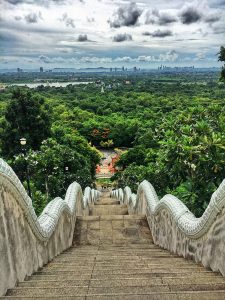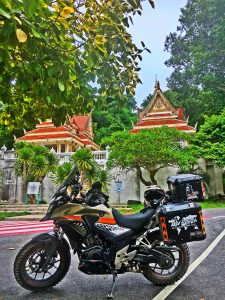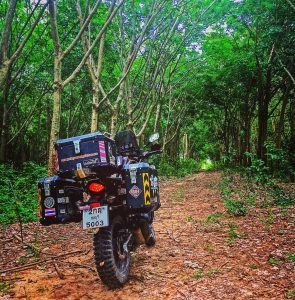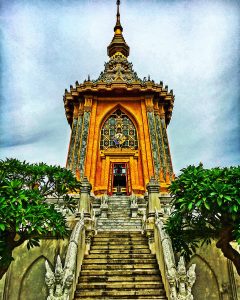 Price:
79,000 THB / Rider
Pillion Riders are at 25% of the cost of the tour based on shared accommodation
Please Note: Our Prices are based on a minimum of 4 Riders per tour. You are welcome to book alone or with fewer people however, prices will adjust unless you are happy to be flexible with tour dates so we can put you with other riders of a similar skill level.

Touring By Motorcycle Thailand Includes:
Airport collection and departure
Safety Rules & Presentation
Bike Hire
Helmets
Fuel during the entire trip
Accommodation for the entire trip
Breakfast for the entire trip
Lunch for the entire trip
Drinks the entire trip (excluding alcohol)
Boat Rides x 2
Entrance Fees to numerous national parks and historical sites.
2 Tour Guides
Third party liability insurance
*Excludes - Evening Meals 
Rider Level - intermediate to experienced riders (2 years minimum riding experience).
Off Road - small amount 
Total kms traveled - (Approx) 1,400kms
You will need: Passport, Riding License, International Riders Permit, Insurance from your home country.
We will need 2 weeks advance notice to book Touring By Motorcycle Thailand tour.



For Full Motorcycle Medical Insurance From As Littel As $3.00 a day


Touring By Motorcycle Thailand
Kanchanaburi Jungle Run Tour