About Us
Motorcycle Tours In Thailand
Pattaya Motorcycle Tours is based on the east coast of Thailand about 2 hour drive from Bangkok. We offer guided motorcycle tours in Thailand and specialize in offering our customers adventure through eco friendly and sustainable tourism practices. On our tours you can meet the real indigenous hill tribe people, try scuba diving amongst some of the most amazing coral reefs, try exotic Thai cuisine and soak up the sun on some the famous island beaches in Thailand. We will work with you to design a bespoke motorcycle tour package that will fulfill all your needs and leave you with lasting positive memories of amazing Thailand.
The Team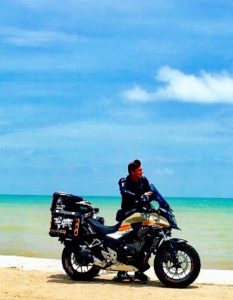 Gwyn Mills - Owner/General Dogs Body
Gwyn has been living in Thailand almost 17 years and has had a passion for all things adventure related. In his early 20s he spent much of his time riding across India, Egypt and Europe photographing his travels as he went.
Gwyn's passion for travel and nature led him to set up a successful marine conservation organisation Dive Tribe that has campaigned hard over the years to protect the ocean and beaches around Thailand. A natural progression and his love of bikes and adventure has led Gwyn to now start organising motorcycle adventure tours around Thailand and introduce you all to the wonders, that make Thailand amazingly unique. So if motorcycles, nature, adventure and photography are your thing then your knocking on the right door in Thailand !!!

Sasithorn Mills - Owner/Better Looking Half
Sasithorn or just plane "Sassy" has been involved in bikes one way or another since she first met Gwyn some 12 years ago. She learnt to ride large capacity bikes just over two years ago and has racked up some serious milage since then, traveling on numerous trips to Mae Hong Son, Koh Chang, Korat, Kanchanburi and Ayutthaya.
She acts as a Thai guide for the company and as a native Thai speaker makes sure that all the trips go smoothly and with out a hitch. Being able to communicate with the locals and having a good knowledge of the areas we visit helps us get the most out of all our trips. Local knowledge is King !!!