Island Fantasy
Pattaya - Koh Chang Island National Park (1 week)
This tour is one of our most requested, simply because of the beautiful scenery and relaxing nature of the ride.
The roads to Koh Chang are stunning and once on the islands, we have many twists, turns, inclines and declines to navigate. Great fun ride and the island is extra special and great for that special honeymoon tour!
Day 1 - Airport collection
As you arrive in Thailand we will be there to greet you and will book you into our favourite resort just in Jomtien. Time permitting we will organise a bike briefing (Paperwork) and introduction to your bike
Day 2 - The Ride to Chantaburi 
8.30 am Breakfast and then we start the fun ride to Chantaburi, where we will pass through rural villages and drop in at  Amphoe Khao Chamao near Rayong. This beautiful national park will have you hiking into the jungle where a refreshing dip in the waterfall is greatly encouraged.
We will have lunch in the national park before taking the coastal roads onto Chantaburi.
Our destination is our beautiful beach villa located right on the beach.
Dinner, sunsets and a refreshing drink are the order of the evening.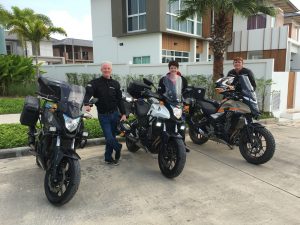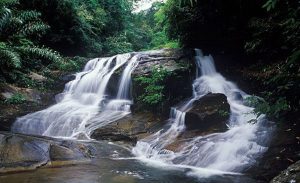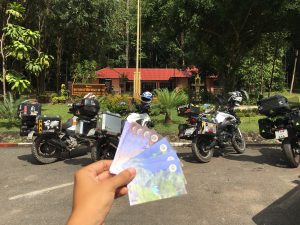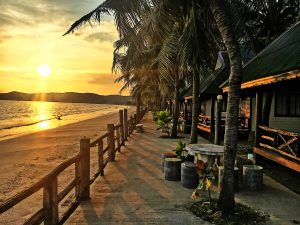 Day 3 - Koh Chang Island
At approx 9.30 am breakfast is served at the front of your beach villa and then we can saddle up and begin our ride through scenic Chantaburi and on into Trat, where we will meet the ferry for the crossing onto the island
The ferry ride is approx 45 minutes, so sit back relax with a drink and get ready for some spectacular photo opportunities as we draw close to the island.
Once we arrive at the island we will be making our way to a small beach resort in the area of Kae Bae Beach, quiet, tranquil and in the heart of the jungle with beautiful views of the beach.
We will check you in and then we are going to take you to an amazing place overlooking the oceans for lunch. This place will blow you away !!
Lunch completed and it's time to relax on the beach in a tiny bamboo hut set on the cliffs overlooking the islands for a traditional Thai massage. It doesn't get any better than this !!
Evening times we will point you in the right direction for some of the fun and nightlife or alternatively some of the best places to eat on the islands, so you're free to roam and try everything at your own leisure.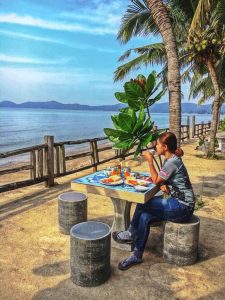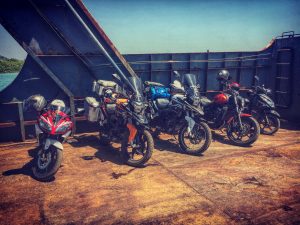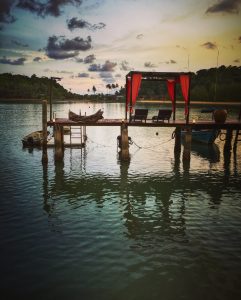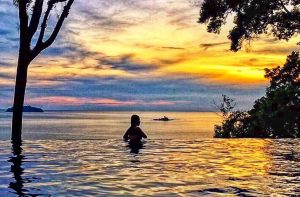 Day 4 - Waterfalls and Jungle Trek 
Not surprisingly Koh Chang has an abundance of waterfalls so today after a hearty breakfast, grab your swimming gear as we are off to visit 2 of the best waterfalls the island has to offer.
The first waterfall of the day is called Khlong Phlu and this has some fantastic treks through the jungle, where not only will you see these stunning falls but also more flora and fauna than you can shake a stick at.
We will stop for lunch at the falls and then saddle up and ride onto the next site called Klong Nonsi.
Klong Nonsi waterfall is usually free of any tourists and we pass through the small village of Dan Mai and arrive at this little know falls. The best time to visit is between October to February when the waters are at their highest levels.
Having had a good swim and a hard climb, our last port of call is to one of the viewpoints where we can park the bikes up and watch the most spectacular sunsets out across the ocean and islands.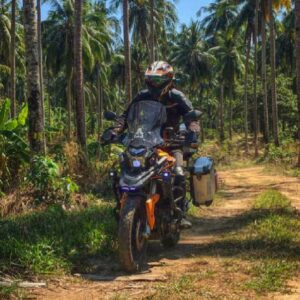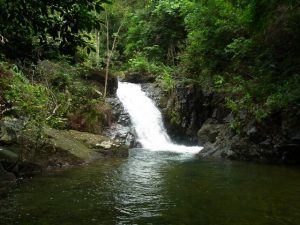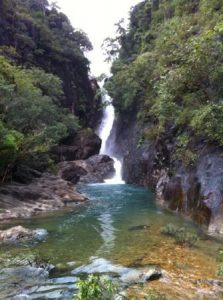 Day 5 - Beach & Rest Day
Well as it's an island paradise and no vacation would be complete without a day on the beach.
You can relax have a few margaritas or coconut cocktails and soak up the sun and take a refreshing swim in the ocean. Drop-in for a massage or for even hire a kayak and paddle out to the islands.
For those that are still seeking a little more adventure, we can book you in for a day of scuba diving around the islands where you can swim amongst the reefs and fishes and lunch out on the boat. (this is an option and priced at 3,000thb). If you want to ride solo and explore the island a little more then do feel free to do so.
We want you to soak up the amazing beauty of Koh Chang and enjoy every last drop !!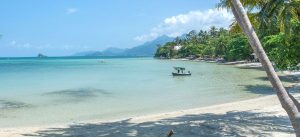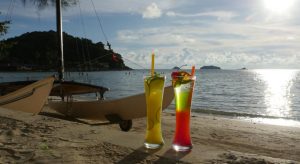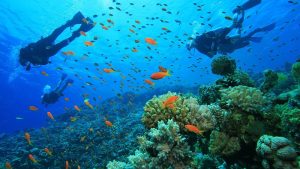 Day 6 - Coastal Road Home 
Starting with a late breakfast at around 10 am we then set off to meet our ferry and leave our little island fantasy and take the scenic route back towards Chantaburi. Today we will be visiting a small fishing village and shrine taking the road favoured by Thai bikers, as it lends itself to great riding, with its near-perfect road condition and twists and turns. A few runs up and down here has the adrenalin pumping !!
There is a small fishing village located at the end of the run so, this has become our port of call for many years now. If you want to try some of the local produce please feel free to ask our guides what they all are!
After the village, we will pull into a small town for coffee and lunch that has been modelled on what I can only describe as a US east coast village, most unusual....but great coffee!
Our last destination of the day is a small garden and shrine known as Somdej Phra Chao Taksin Maharat.
In Chanthaburi, there are many places related to King Taksin even though it was not the capital he built. This is because of the respect the Chanthaburi locals have for him which brought about the saying "You cannot say you have been to Chanthaburi if you have not visited a shrine of King Taksin."
We will be back at our lodgings early evening ready for another spectacular sunset and dinner on the beach.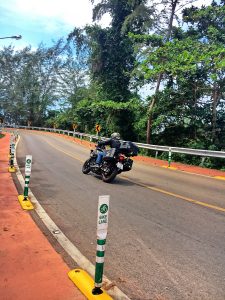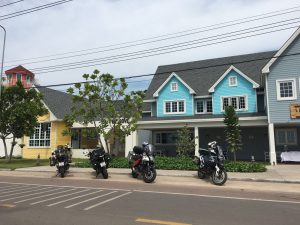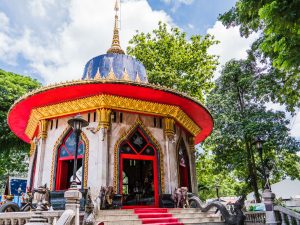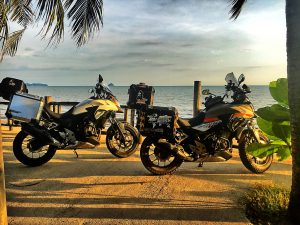 Day 7 Ride Back to Pattaya
Well, we are at our final ride back into Pattaya, but we still have a full day of sites to see when we get back!
The country roads back will delight and thrill and once into Pattaya we intend to show you that's it's not all Go-Go Bars and old blokes with young girls.
Pattaya has some outstanding places to ride and visit, and that being said we will be taking you to a sprawling 420-acre vineyard in the hills, which is closely modelled on Italy, even the vines are from Italy. It's charming and an unexpected site and takes a few pictures and folks back home won't believe that you're in Thailand.
The second place to visit is the 130 meters high Buddha Mountain, where a huge golden Buddha has been depicted into the mountain. The Buddha image that is officially called Phra Phuttha Maha Wachira Uttamopat Satsada was created in 1996 to celebrate the 50thanniversary of King Bhumibol Adulyadej's accession to the throne.
The last port of call on this trip will be the last temple, which is rarely visited by foreigners but to me just for the view alone deserves a visit. Climb the 300 plus steps and claim your reward...What a view !!
At the end of the day, it would be our pleasure to drop you back at your hotel or offer you before you leave us a beachside restaurant that you will kick yourself if you miss, a perfect place to say our goodbyes and drink to a tour that we hope will give you many great memories !!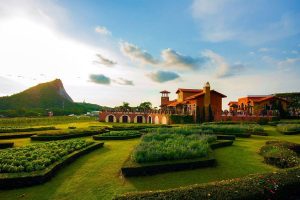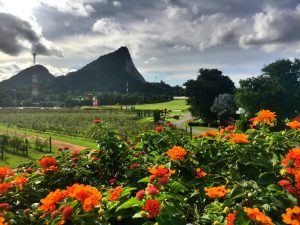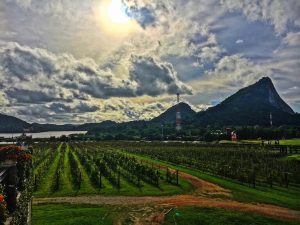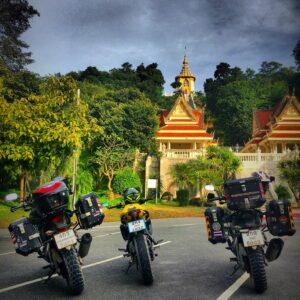 Price:
49,000 THB / Rider
Pillion Riders are at 25% of the cost of the tour based on shared accommodation
Please Note: Our Prices are based on a minimum of 4 Riders per tour. You are welcome to book alone or with fewer people however, prices will adjust unless you are happy to be flexible with tour dates so we can put you with other riders of a similar skill level.

Includes: 
Airport collection and departure
Safety Rules and Presentation
Motorcycle Hire
Helmets
Fuel during the entire tour
Accommodation for the entire tour
Breakfast for the entire tour
Lunch for the entire tour
All drinks on the rides (excluding alcohol)
2 Tour Guides
Ferry Tickets
Entrance Fees to numerous national parks and historical sites.
Third-party liability insurance
*Excludes - Evening Meals 
Rider Level - intermediate to experienced riders (2 years minimum riding experience).
Off Road: small amount
Total kms traveled: (Approx) 800kms
You will need: Passport, Riding License, International Riders Permit, Insurance from your home country. 
We will need 2 weeks advance notice to book this tour.


For Full Medical Cover From as Little as $3.00 a day