Motorcycle Tour Thailand-Coastal Tour
In this editorial I want to introduce you to our 2 Day Motorcycle Tour Thailand-Coastal Tour.
It is a short tour so if you have limited time or a smaller budget then this will give you a great way to see and get an authentic flavour of Thailand.
Once you are booked onto the tour and have safely arrived in Pattaya/Jomtien, we will be over at your hotel to collect you at 8.30 am and take you to your bike. We have a small amount of paperwork to go through and after checking your license and International Drivers permit we will sit with you and discuss safety and what is expected of riders on a motorcycle tour Thailand.
We usually aim for around 9.30am to set off on the tour, this means most of the local traffic has cleared and leaves us free to navigate the country roads to our first stop. The HTMS Chakri Naruebet in the Sattahip District of Thailand. This is an ex US Navy aircraft carrier that was bought by the Thai Navy as their flagship and is their only aircraft carrier. Although not large by aircraft carriers of the modern era , its still impressive at 185meters long. Sadly as foreigners we can not go aboard, this is only reserved for Thai nationals.
So after a quick photo shoot here and a a good coffee at the nearby coffee shop we take off to our next stop.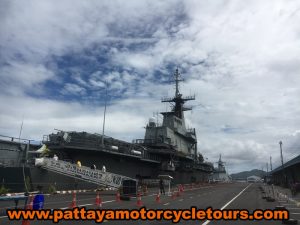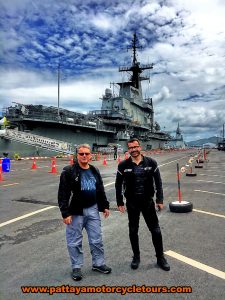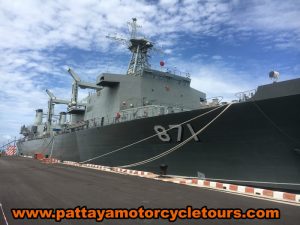 So as we wind our way through the countryside our next stop is over for lunch on the beach at the Navy Seal Club. Here we can sit and relax have a great traditional Thai lunch a few (non alcoholic) drinks before hitting the road.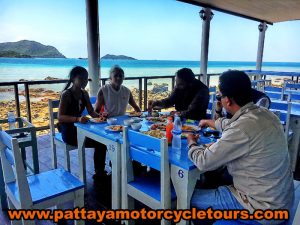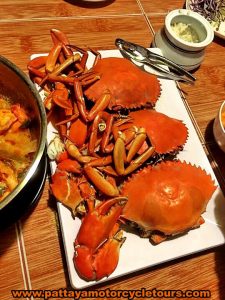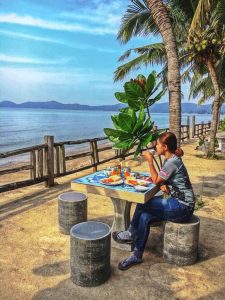 Lunch over and we are on the road for at least a 3 hour journey which takes us from Sattahip around the local roads to the waterfall at Namtok Phlio National Park. This charming National park is situated in the Chanataburi province and is not only home to waterfalls and rainforests but also contains a stupa and chedi from the reign of Rama V a much revered and respected King.
Once in the national park break out your bathing suit as the cool waters of the waterfall make for a refreshing change from the heat and the dust from the road.
We will spend a good 45 minutes to an hour relaxing and cooling down before moving on to our resort for the evening.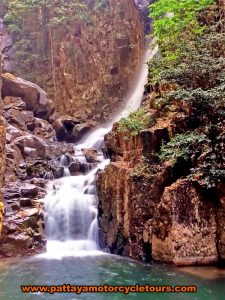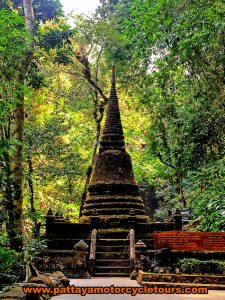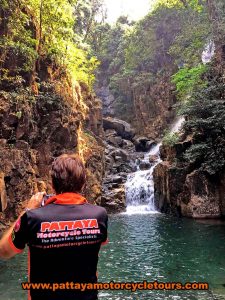 We will be staying at Sriphairin Resort, where all our riders get delightful beach bungalows and a few beers while watching the sunset over the gulf of Thailand. Dinner is of course by the beach and is a delicious Thai menu specialising in what else ? Seafood!!!

Day 2
After breakfast at 9am we are back on the bikes to visit the Blue Temple at Paknam Khaem Nu which is very close by and worth a short visit.
The coastal roads along the rest of the ride are where we have some fun, those of you that want to put your skills to the test are free to do so. We let you have a play along a stretch of road that many bikers enjoy testing there machines on and at the bottom of the road is a quaint coffee shop with light house that we always drop into on our rides.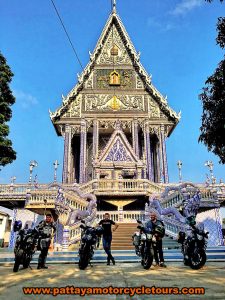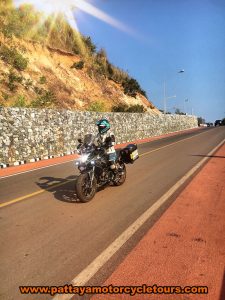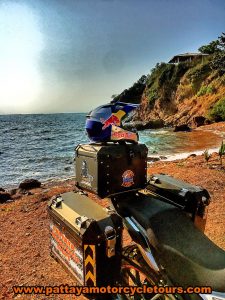 Last stop on the the tour is the HTMS Prasae which is now a war memorial. The ship again was originally a US frigate and was sold to the Thai Navy on condition to help in the Korean war.
Its a great photo opportunity with the bikes and riders and close by we will stop for local lunches and drinks.
The last leg of the journey sees us making our way back to Pattaya through a variety of quaint small villages, back roads and a few trails.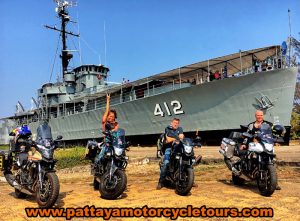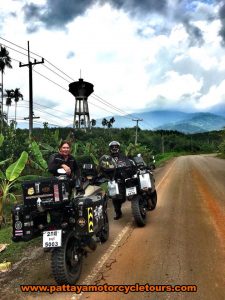 We are usually back in Pattaya before sunset where we then will deliver you safely to your hotel and stop for a beer or two with you.
This motorcycle tour Thailand has been popular with riders with limited time and also for those that have never toured in a group before. We always keep the numbers small (no more than 4 riders) and we make sure that we adjust our riding speed and style to suit our riders.
You can book this tour at our link here Coastal Road Runner