Motorcycle Touring In Thailand

Motorcycle Touring in Thailand has become one of the latest bucket list "to do" activities that many of us have either considered or are actually going to undertake.
For those of you that would like to learn more about riding in Thailand please read on.
Climate For Motorcycle Touring In Thailand
Thailand formerly known as Siam sits almost slap bang in the middle of the equator and because of this the climate almost all year round is hot and humid.
We do get monsoon rains and the southwest monsoon starts from May and carries on through to October. This monsoon usually begins with evening showers through the first few months and then can get progressively heavier through September to October.
It is still possible to ride through the monsoon season and we often do as the showers may be heavy but they rarely last for more than an hour or so.
We normally drop into a local coffee house or noodle shop, eat, drink and wait for it to pass. It soon dries up !!   
The Northeast Monsoon is totally different, it starts in October and continues on into early February and brings with it cool dry air from China. The North regions such as Chang Mai temperatures can dip to as low as 5 degrees celcius.
If you are touring North during these dates then its always good to bring some layers as the windchill on the bike in the early morning can be brisk to say the least!
What to Wear Motorcycle Touring In Thailand
So as we have already heard that Thailand is hot and humid , so what then are the options as far as clothing goes?
Well of course a helmet with visor is going to be a must and if possible its always better to bring your own. Make sure they are full face so you are protected against dust, stones and wind burn. Make sure its well ventilated. Brands available in Thailand include Arai, Bell, Shark and Real
Mesh Motorcycle riding jackets with body armour are now widely available and offer good protection in the case of a fall. Should be worn all the time and even in this climate once you start moving they are remarkably cool. A list of mesh jackets can be found here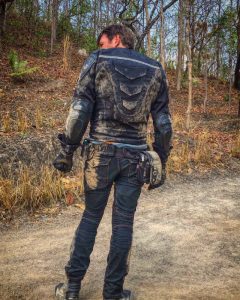 Motorcycle pants with armour are also available or the bare minimum some good jeans.
Trousers for motorcycling in Thailand are best bought at larger stores with more choice , a list of whats available is here.
Riding boots are recommended but failing that sturdy boots should be worn.
Thongs/Flip Flops are for the beach and the amount of accidents that happen where people lost toes because of not wearing boots is uncountable!
Motorcycle riding gloves are a must, in the event of an accident we usually use our hands to break a fall and a good pair of gloves will protect you from some injuries.
Other items to consider is a scarf this can help with dust and also sunburn on the back of the neck
Sunbloc spf-30 or greater will help against any unwanted sunburn on the back of the neck, face and I personally have been burnt in between jacket and gloves.
In the rainy or cold season bring a few warmer garments and also a wet weather plastic jacket helps for those unwanted showers.
Thailand Motorcycle License Laws and Insurance.
Thailand's licensing laws for foreigners are as follows.
You will need to bring your own license from your home country a copy will not do.
Along with that you will need your IDP (International Drivers Permit) these you can acquire from your home country. With out these you will be riding uninsured.
We always suggest that before embarking on a motorcycle trip in Thailand or any foreign country you check your travel insurance policy. Does it allow you to ride the capacity motorcycle that you wish to ride. Most take out a policy that usually costs a few dollars extra to cover them whilst riding abroad. We recommend this also.
More information on Thai driving license can be found here
Roads, Trails and Traffic
In Thailand we drive on the left so if you're coming from a country where it's the same it does make it easier adjusting
The roads on the most part are very well looked after all over Thailand and with over 180,000 kms of road surface that is quite commendable.
Thailand is divided up into 3 road systems
1.Expressways/ Motorways
No motorcycles are aloud on the expressway/motorway, these are strictly reserved for cars and although difficult to get on the expressways with out going through a toll, it can happen, which will lead you being led off by the police if you are caught and receiving a fine. Many of them are elevated and mostly found in Bangkok.
2. Highways are usually 4 lanes and between the major cities and can be quite heavily congested. Although 4 lanes you will find that many cars are parked in the far left lane, so it is sometimes best to avoid the far left to avoid any accidents.
 
3.Local roads/rural roads are what we like to ride on, usually single track and well maintained. They have far fewer cars and mostly the traffic will move at a slower pace.
These will take you through the sleepy villages, and through the mountains. As these were some of the first roads built they can really twist and turn through the mountain passes and are so much fun for motorcycle riding.
The Law in Thailand states you should ride on the very left lane, this can work OK with the smaller bikes and scooters but on larger capacity bikes we tend to ride in most any lane as its not difficult to keep up with the overall traffic speed.
Night Time Riding is highly dangerous and also why do it?
You will miss all the great scenery !!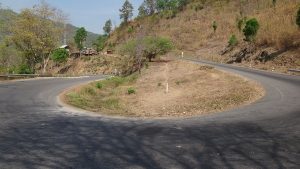 Eating and Staying Hydrated on a Motorcycle Tour.
When it comes to eating in Thailand as bikers we are spoilt for choice, it seems around every corner there are noodles, fresh fruit and drinks and in every town there will be great restaurants offering not only Thai dishes but also a foreign menu.
Make sure your always well hydrated when motorcycle riding and it's always a good idea to take a couple of bottles of water with you on your bike.
Need a wipe down? Most 7/11s have refreshing scented towels which refresh and rejuvenate even the most tired rider, these are usually found in the fridge near the drinks.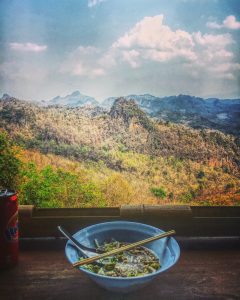 Accommodation.
Thailand has rooms to suit all budgets , from the back packer hostels all the way up to 5 star 20,000 thb resorts. You can find reasonable clean accommodation from around 800-1200thb with air conditioning and hot water.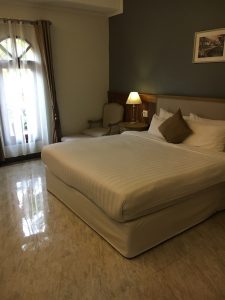 Alcohol
No, No and No in that order,
Alcohol or driving under the influence is illegal.
You could end up spending a night in the jail or as its affectionately known in Thailand "The Monkey House". In the morning you will be in court and can pay a fine of anything between 10- 20,000 thb.
As a foot note to this short blog on Motorcycle Touring in Thailand I would like to offer a word of caution .
If you have never ridden a motorcycle or even a scooter and are thinking of renting one, I would ask you to reconsider.
Thailand is not the place to learn to ride, and a bike or even scooter in the wrong hands is a recipe for disaster. Over the years I have seen numerous report of young men and women coming to Thailand and sadly either having a life changing accident or worse dead.
On most occasions they will have no insurance cover.
I have personally been riding across Thailand for almost 17 years. Before that I used to ride through India and into the Himalayan mountains up to Nepal. I am used to riding in Thailand and yet still exercise extreme caution. I actually find the driving here on the whole not as bad as many would lead you to believe. Sure it's more dangerous than my home country and statistics prove that, but on the whole with my background and training I feel moderately safe.
The motorcyclist we ride with on our motorcycle tours in Thailand have been trained in their respective countries.  Over the years they acquired the necessary knowledge and road skills to operate a bike safely in many conditions. Ask yourself, do you have that knowledge, if the answer is "no" then do reconsider.
If you are Motorcycle Touring in Thailand, then there is no better way to see it and soak up the real Thai hospitality and culture.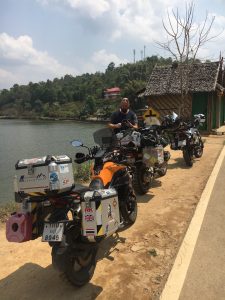 The locals in the villages instantly warm to you, they want to know about the bike , how fast is it, and where you have come from. Instantly you become part of their family. They know you need food, water and shelter and on the most part are happy to oblige. Motorcycle Touring in Thailand lets you get to smell the sweet air in the mountains, experience every climate change and stop whenever the mood takes you. You will be able to travel paths to hidden temples, ride through jungles trails and see hidden waterfalls. Most of all as bikers its all about the freedom and the open road, all of which Thailand has in abundance. This is an amazingly biker friendly country as any one that has ridden here will tell you.
Interested in Motorcycle Touring In Thailand?
Please take a look at our available tours
1 Day Tour, 2 Day Tour, 7 day tour  9 Day tour and 14 Days tour 
Hope this was of some help to those considering riding Thailand and hope to see you on the road in the future – Ride Safe !!