Burapha Bike Week also known as Pattaya Bike Week rolled into town on the 9th and 10th of February and with it thousands of like minded bikers, bike clubs and petrol heads.
Burapa has been running this event in Pattaya now for 21 years and steadily over these years it has seen a large increase not only of bikes but also manufacturers displaying and selling their merchandise and bikers turning up from almost all over Asia , especially Malaysia.
Special mention has to go to Burapa Motorcycle Club President Prasan Nikaji for organising the event along with all the sponsors that generously donate funding to host the show and to keep this event free and open to the public.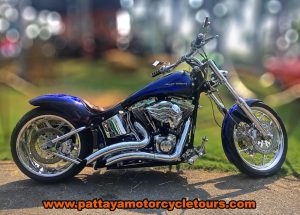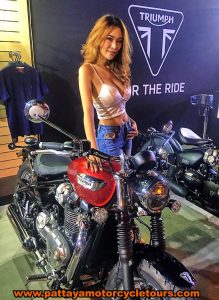 The atmosphere is almost carnival like and even with all the usual bike clubs and guys dressed in all their bike leathers and tattoos , its still a very family friendly event.
This year we were treated to not only the usual custom bikes but also stunt shows, 2 stages pumping out live rock music and several smaller stages with acoustic and traditional thai songs.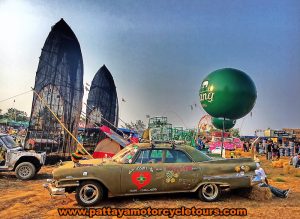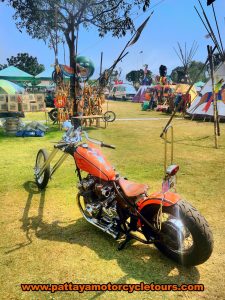 Manufactures of note that were displaying at Pattaya Bike week were Harley Davidson, Honda, Vespa and Yamaha bringing some of their latest bikes for the public to drool over and also test ride and along with the bikes came the parts manufacturers such as Ohlins suspension parts, EBC brakes along with many others.
We, Pattaya Motorcycle Tours had a small stand just close to the main stage and by the Chang Beer tent and would like to thanks everyone we met during the day for stopping by and chatting  to us not only about Adventure Motorcycles but also Motorcycle Touring in Thailand, sharing routes, tips and the odd beer, it was greatly appreciated.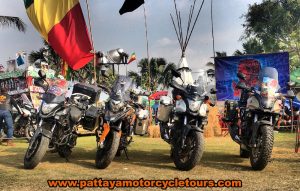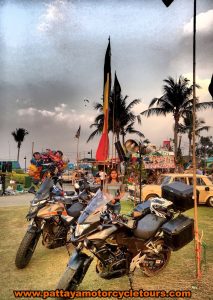 The event is not just all about motorcycles, with a big show of US cars and tricked out truck with some of the largest sound systems known to man. These and other custom motors were another reason why this show has become such a runaway success. Stalls with all kinds of food are there, tattoos, jewellery, bike clothing , literally everything for the biker can be found here.
A total of 50,000 were expected to turn up at the show, but on the Saturday night I would have put the number nearer the 100,000 mark. It was simply heaving !
This not only benefits the show but also the charities it aims to support , helping underprivileged children get better access to books and learning materials, collecting money to build orphanages, donating wheel chair and other much needed medical supplies and providing better access to schooling.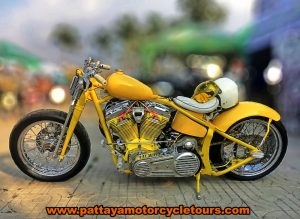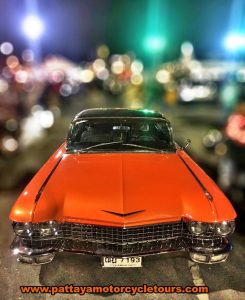 Was Pattaya Bike Week a success ?
Absolutely!  I think this is shown year on year out that several thousand people, from Thailand, Germany, UK, US, Denmark, Sweden, Malaysia, Singapore, and quite literally all over the world can all join such a big  show and party together with out incident or mishap is testament to the Burapa Club Motto of  "We are The World"!
An Image Gallery of all our pictures can be found HERE