Motorcycle Touring in Thailand (Part 2)
PATTAYA
Motorcycle Touring in Thailand-Pattaya has a reputation of sleazy bars, nightlife and big city problems such as over tourism, trash and congested roads. But scratch below the surface and get off your bar stool or out of the comfort of your resort and you will soon see there is so much more to see in Pattaya than you first thought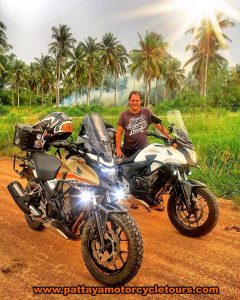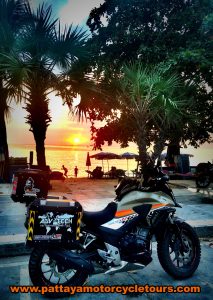 Motorcycle Touring in Thailand has become one of the best ways to see the country, it gives you access to parts of Thailand many can not see traveling by coach, car or train. It allows us to cross jungles, take dirt roads through tiny forgotten villages and avoid highways and major cities. It gives us the freedom to stop as we please and interact with the locals, In-fact Motorcycle Touring in Thailand in my opinion is the only way to see this amazing country. So lets have a look at whats on offer in Pattaya and why you should consider spending a day touring the area.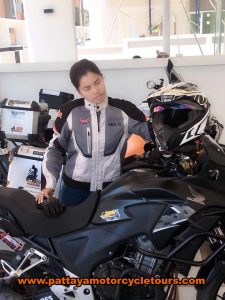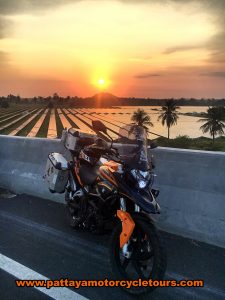 The White Temple
Just East of Pattaya there is a small White Buddhist Temple that started construction around 2015 and is now all but complete. It has to be one of the nicest examples of this style in the area. Inside the temple it's simply jaw dropping , the ceiling and every inch has been covered in tiny silver/mirror mosaic that cascades and bounce the light off every shiny surface. Its used by the locals in the area, appropriate dress and remove shoes before you enter.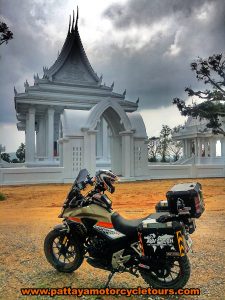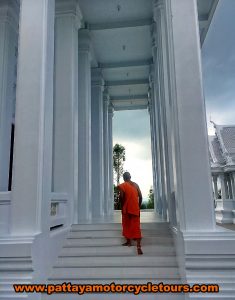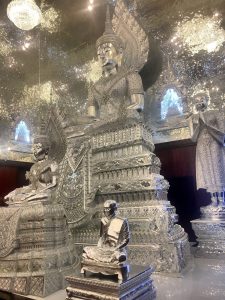 Wat Hauy Yai 
This extremely beautiful temple is located approximately 30 mins drive from Pattaya central.It boast numerous buildings some still under construction and the main temple completed a few years back.
It is one of the busiest temples in the local area and at weekend hosts a large market in it grounds .
Ornately decorated and beautifully kept this temple needs to be checked out if your in the area.
Directions are HERE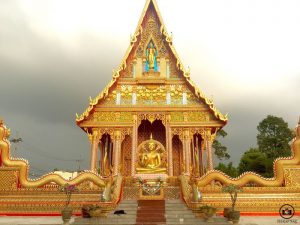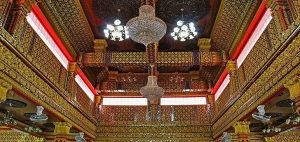 Silverlake Vineyards and Little Italy
Riding along the twisty roads to Silverlake conjours up an image of Tuscany, Pencil pines and rolling vineyards with Italian architecture are all around. Silverlake is a working vineyard set in 420 acres overlooking mountains and the lake. The vineyard produces White, Red and Rose wines and so I am told they are very reasonable and have won a few awards in Europe and Asia.
There are a couple of Italian Restaurant there and the larger one on the hill is run by good friend of mine of 15 years. Alberto, who has been not only running some of the top restaurants in Pattaya such as the Centara but also in some of the top places Bangkok.
Go say Hello and indulge in some traditional Italian dishes with him and his wife runs the vineyard so can recommend the best wines to go with your meal.
Now what's across the road really astounds me !!
How about Venice.. with the canals, a full size colosseum like Rome and so much more copied Italian architecture. Its beautifully done, and although not complete it looks like it wont be long before its opening its doors to the public. You can find more about Silverlake vineyard HERE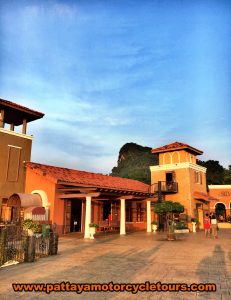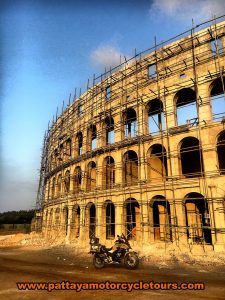 Khao Chi Chan or Laser Buddha
Almost right next door to Silverlake is the impressive 130 meter high laser etched Buddha Mountain.
The Buddha image is officially called Phra Phuttha Maha Wachira Uttamopat Satsada, and was created in 1996 to celebrate the 50th anniversary of King Bhumibol Adulyadej's accession the the throne.
The buddha was carved into the rock using laser technology and then inlaid with gold leaf, it is set amongst beautifully landscaped gardens and is one of the many great photo opportunities in the area.
Directions are HERE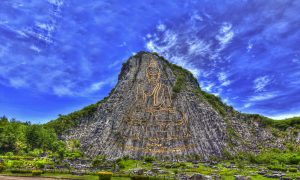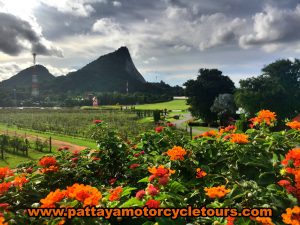 Wat Yansangwararam
This is a beautiful complex housing many different architecturally styled temples  set in an area of 145 acres.
Known as Wat Yan for short. It is known for its modern design and to me almost looks like an Indian temple.
The pavilion known as a Mondop contains a replica of Buddhas footstep,and also houses a number of artifacts from Buddha and his followers. It was constructed in 1976.
Directions are HERE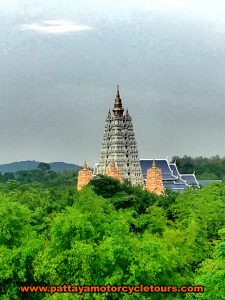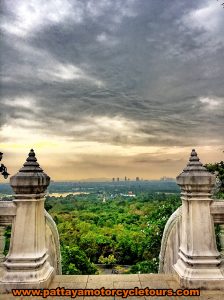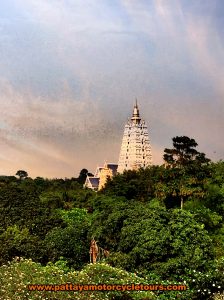 Viharn Sien
This temple is beautiful and so colourful, built in 1986, the museum houses a great collection of Chinese artifacts and is guarded by some awesome looking Shaolin monks made from bronze, my estimate is around 50 of them. The building is made up of 3 stories and has great hallways and pavilions to explore, Viharn Sien actually means 'House of Gods". It is nearby Silverlake and Buddha Mountain, so can all be seen on the same day. Directions are HERE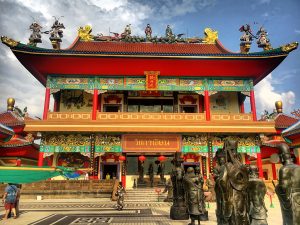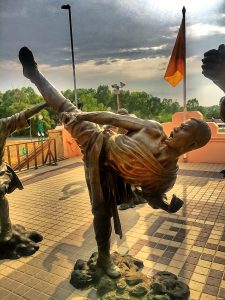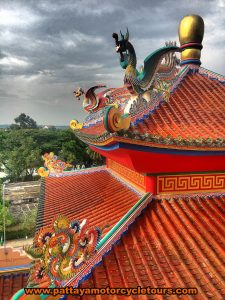 Sanctuary of Truth
This amazing wooden building is situated in North Pattaya and has been under construction for 20 plus years and is still not complete. All the delicate carving is done by hand and a team of people are employed to continue the work on it. The building itself is more than 100 meters high and is in fact not used as a temple at all.The carvings are all inspired not only by Buddhist beliefs but also Hindu beliefs , hence why you will see Ganesh and hanuman depicted in some of the carvings.
The sanctuary of Truth at the time of writing this had a 500 baht entrance fee for adults and 250 baht for children and toddlers were free. Directions are HERE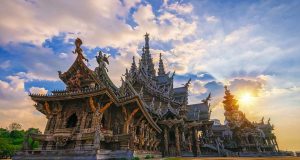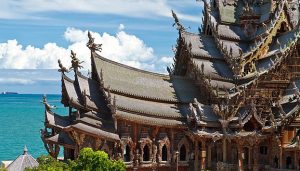 So these are just a few of the sites to see here and others deserve a mention such as Nong Nooch Gardens, The Floating Market and our favourite the Traditional Chinese Market, which is only open on a Saturday evening.
There are also two large water parks in the area and for bikers, numerous roads, dirt trails, hang outs, coffee shops and jungle trails. We also have a number of beautiful beaches we like to visit but I will leave that for another blog. As with everything Motorcycle Touring in Thailand requires competence and safety, so stick to the laws and have your license and IDP and insurance and the rest should just be all about the ride!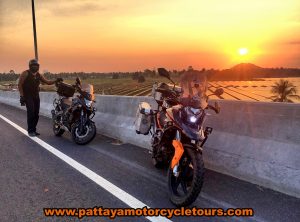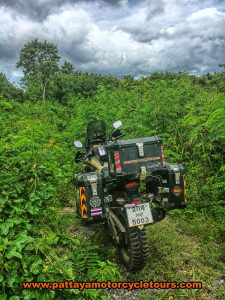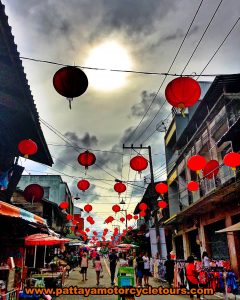 All it takes is the twist of the throttle and experienced guides to show you some of the best roads and sites in Pattaya and make the whole day a fun experience. Join us Motorcycle Touring in Thailand - if you ride then please feel free to contact us and join us on a tour, either around Pattaya for a our "Great Day Out Tour' or all the way up to Mae Hong Son and beyond with our "Great Northern Adventure" !!