MOTORCYCLE TOURING IN THAILAND Pt3
Welcome to Motorcycle Touring in Thailand Pt3 a series of blogs covering our tours and motorcycle touring in and around Thailand.
Our Bikes and Rationale
Thailand can be rough on bikes.
Not only can the roads be pot holed and broken and the jungle tracks tougher than you might expect, we also have to take into account the adverse weather such as extreme heat and monsoon rains that can flood the roads and trails in a heart beat causing lesser bikes to literally stop working-Not the CB500x though!
The reasons we chose the Honda CB500x as our main touring bike is essentially its made in Thailand and parts and spares can be found almost every where and most mechanics even the small shops can do running repairs should you need it.
After all its no fun pushing a fully loaded adventure bike in 30+ degrees celsius heat.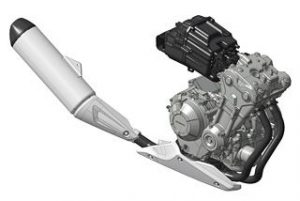 ENGINE
The CB500x engine is bullet proof and in our experience of running these bikes for a number of years we have not had one let us down. The engine is a tried and tested staple of Honda and is used in a multitude of bikes Honda make.
The bike is equipped with a 471cc parallel- twin DOHC engine and has good performance most all the way through the rev range. Its not going to melt the tarmac but it will give you good cruising speed and enough power for some quick overtaking maneuvers.
FUEL CONSUMPTION
To say the CB500X is frugal on fuel is little bit of an understatement at between 62-68 MPG it gives great scope for long distance travel. We have never been caught out or not had enough fuel on our tours. Fuel stops sometimes being an irritation on a nice ride out are usually at the back of your mind when riding the CB and are not worried about. We ride most of the day with out a refill and top them up in the morning to carry on our journey.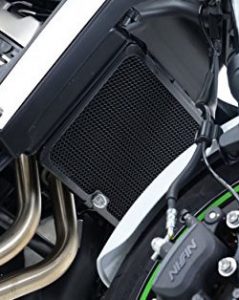 WATER COOLED VS AIR COOLED
Fewer bikes these days are air cooled and even in Thailand's high temperatures though they work extremely well when on a long run, due to new regulation we tend to see less of them riding about or on showroom floors.
The advantage of the green juiced engines for us is that we work in high temperatures and some of the jungle trekking means its slow and hard going causing the bike to generate a lot of heat. So far the CB500X has taken it all in its stride and remained cool. All our bikes have radiator guards protecting those "oh so" delicate fins, but to be honest as long as they are maintained well, you should not have a problem with them.
HIGHWAY CRUISING
When taking a bike onto any fast highway or main road you want protection from buffeting and protection from the odd stone chips that may fly up. The CB500X is perfectly ready to accept a taller screen to help from both of those problems. Occasionally we do take the faster highways and the taller screen has made riding less fatiguing on longer runs, which keeps the rider safer and more alert.
PARTS & MECHANICS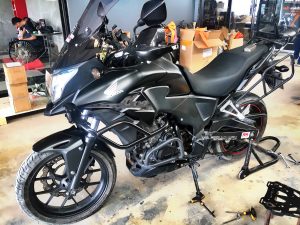 Go into just about any town or city here in Thailand and you will be able to get parts for the CB500X. I had a set of new brake pads fitted in the middle of nowhere just recently on the tour and it was done in minutes, no waiting around a service center.
The guy had them in stock and insisted on having a photo of us with the bike at the end of it all. The Honda CB500X as we have said was built here and has become one of the go to larger touring bikes for not only foreigners but Thais to ride, and many of these also carry parts when touring and are happy to help you out.
ACCESSORIES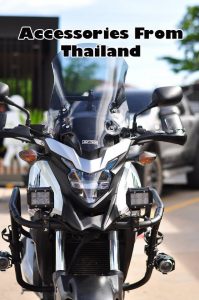 The CB500X is probably one of the most popular bikes here in Thailand+, so accessories are quite literally everywhere. Not only are they everywhere but they are very reasonably priced. Just recently I had a customer that rides a CB500X in the US and he went home with a suitcase of bits for his beloved bike, probably much to the displeasure of his wife if they had over the limit on their suitcases at the airport..
From crash bars, skid plates made from steel or aluminum, lights of all sizes, soft or hard cases, tires, phone holders and numerous USB and 12 volt ports, your bike can be kitted out here for a fraction of the price back home. So if you are taking a tour here , just ask us and we will take you to an Aladin's cave of parts and accessories. We also have a page where we are looking at offering some of those parts not only for CB500X riders but for many Adventure Bikes , link HERE.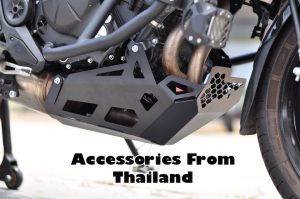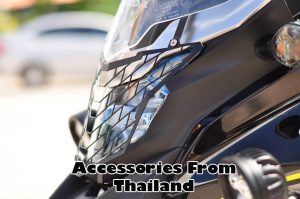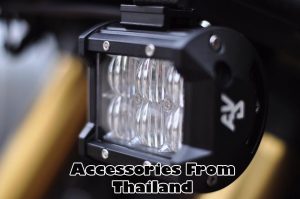 If you really want to upgrade your bike to cope with a whole host of adventure riding and what the wild can throw at you, then I suggest checking out Rally Raid HERE
These views I have expressed in Motorcycle Touring in Thailand Pt3 are just some of the reasons why we chose the CB500X over other bikes here in Thailand. I understand there are many other brands out there, such as the Versys, Vstrom to name just a couple.  All are just as capable at taking on long tours in Thailand and have a little more power, but for us the Honda has been reliable and up to the job, fun to ride and easy to maintain.
Whatever you ride, Ride Safe and Enjoy and if touring in Thailand is something you would like to try, please take a look at our 7 Day, 9 Day and 15 day tours we have on offer.
Regards from all the team at Pattaya Motorcycle Tours.
Blog: Motorcycle Touring in Thailand Pt3
Motorcycle Touring In Thailand Pt3