Long Way Up?
After some cryptic tweets via twitter from Charlie Boorman, it looks like he and his partner Ewan McGregor will be throwing a leg over their motorcycles and entertaining us again with their travels around the globe in a new series called the Long Way Up
After his first teasing post Charlie said "It will happen if all goes well"
So far there has been no word from McGregor, Malkin or Alexanian although Malkin retweeted Boormans post suggesting he's up for it!
Keep an eye on Charlie's and Ewan's tweets over the next few week/months.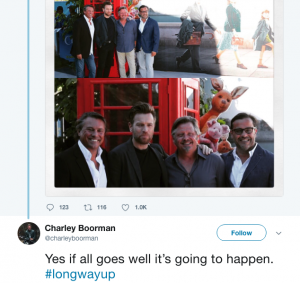 Also no news on the bikes and sponsors, which have been contacted by many of the major news outlets to see if they were also onboard. It will be interesting to see if BMW come through again or if KTM learnt from there costly mistake from previous series. As both are brand ambassadors , Boorman to Triumph and McGregor to Moto Guzzi , there could be some politics involved.
If this project Long Way Up comes good then I think many of the fans will be supporting them again on there travels and I for one will be looking forward to watching them ride out together.
The show put BMW firmly on the map as the Adventure Bike to have, was that a good thing?
Leave a comment below and tell us what your thoughts on the show and choice of bike!
If your looking to tour Thailand, then check out a few of our tours
7 day Island Fantasy , a 9 Day Jungle Run or 15 Days on our Great Northern Adventure