An all new BMW R1250 GS is waiting in the wings to take over from its smaller brother that has been need of an update for several years now.
So gone is the old boxer 1170 and in with a new 1254 lump which should increase the power from 125hp to 135hp, this is achieved through new cylinder heads and VVT (variable valve timing) and a new and improved quieter exhaust package. Original bike was at 92db and is now a sleep inducing 88db!
There is no information as yet on design and but likely its not going to change much, but rumours are the weight increase will by 5kg which will see the beast tipping the scales at around the 249kg mark.
Big question will the power increase offset that extra weight?
I'll guess we will have to wait and see!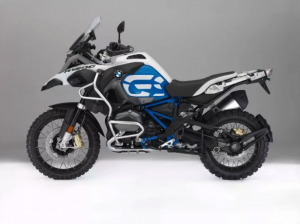 The new BMW R1250 GS will come in two variants, the Standard and Adventure models and these will both be on show in October 2018 at Germany's INTERMOT Motorcycle Show in Cologne and likely to go on sale in 2019.
Judging by the market it wont be a hard sell for BMW as the GS , love 'em or hate 'em has been one of the most popular adventure bikes on the market, in part thanks to the TV series "Long Way Round" with Ewan McGreggor and Charlie Boorman.
So a bigger bike, is the power increase and weight increase necessary?
Leave a comment about the new BMW R1250 GS in the box below and have your say,
If you are interested in touring Thailand let us know, we have many tours from 1 day, 2 Day , 7 days, 9 days and 15 days packages or alternatively we can build you a bespoke tour.
If you're enjoying the website then please follow us for all the latest pictures and articles on Facebook at PATTAYA MOTORCYCLE TOURS