10 Reasons to Motorcycle Tour Thailand
Our 10 reasons to Motorcycle Tour Thailand are just a few of the great many reasons we think riders from around the globe may consider a tour in this fantastic country.
Thailand formally Siam has long been a tourist destination and for many good reasons, but just recently it has become a bucket list destination for many motorcycle riders, offering not only a great climate and warm hospitality but so much more. We take a look at 10 Reasons to Motorcycle Tour Thailand
Amazing Roads to Ride.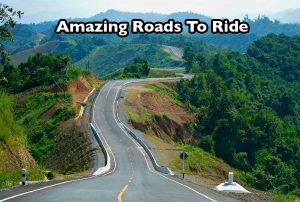 From the moment you throw a leg over a motorcycle and hit the open road, it soon becomes apparent that away from the highways, Thailand has un-spoilt and beautifully looked after smaller roads. Most are concrete or asphalt and as you climb up through the mountains of either Chiangmai, Kanchanaburi or through the national parks, you will rarely see a road that is in a poor state of neglect. What you will find are great sweeping turns, tight twistys and some great long straights. A real bikers paradise, take for example the road from Changmai to Pai, which has 1864 twists and turns and if you set off early enough there is very little traffic. The same goes for many of the roads in many provinces, you can if you choose wisely, experience the satisfaction we all get from riding from point A to point B with minor distraction and at a speed thats comfortable for you… If you know what we mean !!
View Wild Animals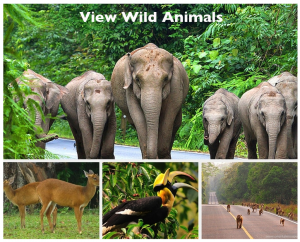 One of the reasons we ride new places is to experience new things. One of those has to be the wildlife. Thailand is brimming full with wildlife from the Cicadas that serenade you to sleep every night in the rain forests to the largest land mammals we have here, the majestic Asian Elephants. We have witnessed wild Elephants in Khao Yai National Park on numerous occasions and it's always something special no matter how many time you see them. From the unusual birds, insects, monkeys and reptiles, to the beautiful butterflies that glide along when we ride they all add to your ride experience. Thailand has all that and more!!

Fantastic Off Road Trails.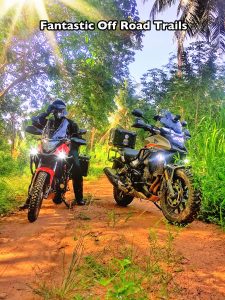 Thailand is essentially a huge rainforest with cities and towns in-between.
The climate is such that any spare land, (and there is a lot) will soon become overgrown with dense jungle, and through these rainforests are some amazing trails and dirt roads, some un-passable but many a real adventure riders mecca. There are river crossings, big drop offs and rocky climbs that will try the metal of the most tough adventure riders.
We try and keep to trails that are tried and tested, but have been known on days off to try new trails if customers would like to try a spot of jungle trekking. We always take a a full quota of tools, first aid and 2 guides, because coming unstuck in some of these places can be dangerous! On the whole though is great fun if you are prepared and ready to have a few soft falls !
Beautiful Cherry Blossom Of Chiangmai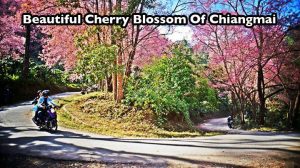 In December to mid February the rides through Changmai take on a new dimension.
Your eyesight and senses wont believe the colour the cherry blossom has in store for you as you wind through these scenic roads. The pinks and purples of the blossom frame the roads perfectly and make for some awesome photographic opportunities.
We love this season for riding and the site of cherry blossom is not just reserved for Japan. You will find most of the blossoms in Doi Suthep, with small trails through Khun Chang Kian Highland Agriculture Research Centre, very popular with Thais because of the cool fresh air.
If riding through the North of Thailand was on your list then take a look at our all inclusive tour which takes you across Thailand to the North taking in amazing places all along the way that are missed if you fly directly to Chiangmai then look at our Northern Adventure
Swim In Refreshing Waterfalls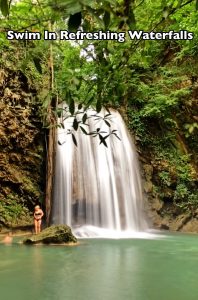 Just after the rainy season from October onwards many of the rivers and reservoirs are brimming full, and the waterfalls are spectacular and one of the best in Thailand is Erawan waterfalls in Kanchanaburi province, which we visit on our Jungle Adventure Tour.
It is a 7 tier waterfall which is fresh and the water in some of the pools is clear and blue, and great for a dip after a long bike ride. On many of our tours we visit many of the waterfalls, which are situated in many of the national parks. They are mostly all great for swimming in, and if you get in early enough you have the place to yourself!!
To see Erawan falls we have a tour all around Kanchanaburi taking in the Bridge Over The River Kwai and so much more, book our Kanchanaburi Tour and join us.
Beautiful Temples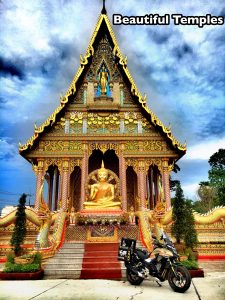 Thailand is known as a Buddhist country and worship in some of the most spectacular temples on the planet. In every town you will find a temple known as a WAT with most of them ornately decorated in golds and jewels, the architecture differs slightly from province to province, some of the temples are all white, and some date back many centuries. We try and visit the more famous temples on our travels along with some of the famous ruins that are in Ayutthaya or the Khemer temples in the North East. Temples are what set Thailand apart and are an important way of life for the communities that worship at them. We will teach you Thai temple etiquette , the do's and don'ts with our Thai guide, that has spent time studying Thai Religion and culture and regularly stays in the temples for merit making.
Enjoy Thai Cuisine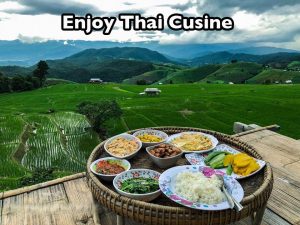 Unless you have been living under a rock for the past few years , there is no doubt you will have heard of the fantastic cuisine that Thailand has become famous for all over the world.
In most every modern western city you will find a Thai restaurant offering some flavour on the menu that Thailand has to offer. We want to take you out to try the traditional thai dishes on your tour, we want you to experience the real Thai tastes and aromatic smells with a spicy edge. Try a real Tom Yam Koong (spicy shrimp soup), eat street food with us such as Guay Teow (noodle soup) with chicken, red pork or duck.
Tom Kha Gai (Chicken in coconut soup), the famous Som Tam (Spicy Green Papaya Salad) which hails from the north east of Thailand or some of the delicious sweets such as Khao Neow Toorien (Durian Coconut Milk and Sticky Rice) or Khanom Jark (Palm Leaf Treat).
Its as much as an adventure as the ride and we will be guiding you !!
Ride to Beautiful Islands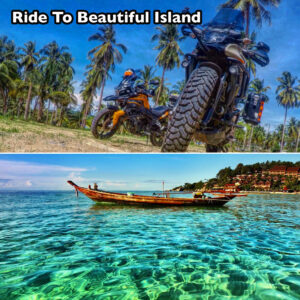 Thailand has a number of beautiful island to choose from and as we are centrally located we have a great opportunity to take riders to some of these spectacular hideaways.
Choose from Koh Chang (Elephant Island) found on the gulf of Thailand or ride further South with us and venture to Phuket or the amazing Koh Phangnan island.
All have their own charms, clear blue oceans and lush jungle rides.
You can choose to party or simply kick back enjoy the beaches, try a spot of fishing or scuba diving, The choice is yours !
Thai Culture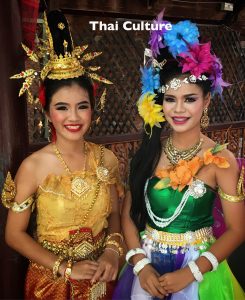 As soon as you land and step off the plane you are aware of Thailand's culture and hospitality. They are incredibly proud people and happy to share with you their culture and hospitality , it's not called the "land of smiles" for nothing and the Thai Smile is something you will never forget. Much of the culture comes from the ethnic Thai population influenced by Buddhism a very peaceful religion. Strong influences that shape Buddhism are Hindu and traditional Chinese beliefs.  What always amazes us as bikers is there warm and genuine demeanor towards us. As soon as we ride into smaller towns, they offer water or a stronger drink, food and sometimes accommodation, something you never get if you turn up in a coach or car. They want to know how fast the bike is, where we have come from and by the end of an evening we are treated like family.
Always keep your cool in Thailand, quiet and humble is whats expected even when the going gets tough. If your invited into a house or especially a temple always remove you shoes and remember to duck down between two people and show reverence to the owner of the household. We are here to help you understand Thai culture and enjoy the soft and smiling friends you make along the way!
Amazing Scenery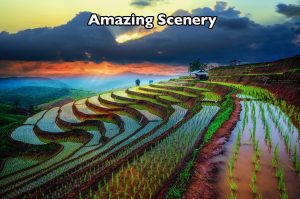 When riding in Thailand the scenery is picture postcard perfect, as we travel the small roads and trails through the different provinces, Emerald green rice fields, misty mountains, stunning jungle and beautiful coastal roads are all sites you will be seeing as you travel, through Thailand. We make numerous stops to take it all in and get some pictures. Sunrise and sunsets are all breathtaking when stood by the ocean or on a mountain top.
Despite heavy tourism Thailand keeps us coming back for more. We try a have a mix of the popular and the unknown as we ride, we want to keep you guessing whats around the next corner!!
So thats our 10 Reasons To Motorcycle Tour Thailand , we could of continued on and on but these are 10 great reasons to book and see what an amazing country Thailand is.
Plus at the moment we are seeing amazing deals on flights to Thailand on Sky Scanner if you book ahead.
10 Reasons To Motorcycle Tour Thailand 2018
10 Reasons To Motorcycle Tour Thailand 2019